Welcome

Third Sunday of Advent

December 15, 2019
Read Matthew 11:2-11
Coffee.   It's an incredibly valuable commodity.  Some say second only to oil.  Americans drink 2.3 billion pounds of the stuff a year, more than any other country.  What does coffee have to do with Advent, Jesus, our faith?
People tend to gravitate toward what appears to be true and genuine.
I hope you are able to join us Sundays at Willoughby Hills United Methodist Church.  We are located at 34201 Eddy Road in Willoughby Hills, Ohio, 44094.  Our contemporary service begins around 9:30 a.m. or our traditional service at 11:00 a.m. 
Pastor Max
---
Administrative Assistant Job Opening
We are currently looking for a part time Administrative Assistant.  See the job posting here for more information:
Admin Assistant Job Ad
---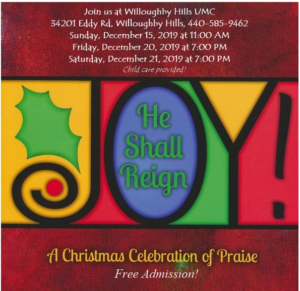 ---
What do we mean when we say "Joyfully Helping God Heal Broken Lives?"
At WHUMC we are "Joyfully Helping God Heal Broken Lives." We do so in many different ways, so this phrase means different things to different people. However, we've found that most of the things that we're passionate about can be summarized in these six words. Click here to read more.