Our Clergy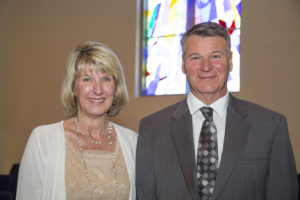 Rev. Max R.T. Beery
My name is Max Ralph Talmadge Beery. I would like to be called Pastor Max or Rev. Beery.
My wife, Carroll, and I recently celebrated our 5th wedding anniversary. Together, we have 9 adult children (that includes in-laws) and 7 wonderful grandchildren. As a side note, we have a set of triplets in the grandchildren division. Our family is as close as Cuyahoga Falls and Uniontown, and as far away as Thunder Bay, Ontario, Canada, Tacoma, Washington and Cape Cod, Massachusetts. My mom, at the age of 91, resides in Mt. Vernon, Ohio.
I graduated from Mt. Vernon High School, Mt. Vernon Nazarene College and The Methodist Theological School in Delaware, Ohio. I have served the following churches in the East Ohio Conference: Thoburn UMC in St. Clairsville, Green Springs UMC, Rocky River UMC, Firestone Park UMC in Akron and Cambridge First UMC.
I am entering my 30th year of full-time pastoral ministry as I join the staff and volunteers of Willoughby Hills UMC. I wish to thank those of you who have so graciously welcomed us so far. Special thanks to Pastor Dana, Eric Hanson, and Larry DeMoss, as well as the SPRC, the Trustees, and the paid staff. God is good, all the time; and all the time, God is good.
I am passionate about worship, music and outreach ministry. I like to preach, teach and meet. On the lighter side, I enjoy playing golf, drinking coffee, and hanging with my wife, Carroll, and our dog, Parker. Speaking of Carroll, she is my best friend, loves to shop and see our grandchildren.
I look forward to working with all of you, joyfully helping God heal broken lives. I pray that our ministry and mission together will last many years.
Peace,
Pastor Max